Repairs at Crasno

Repairs are the main focus here. Since I operate out of my home in Edmonton, AB, all repairs need an appointment — please contact me!
| | |
| --- | --- |
| Labor Rate: | $35.00 per hour + cost of parts & supplies |
| Minimum Charge: | $17.50 (i.e. 30 minutes labor) per item |
| Estimates: | Free |
| Typical Turnaround: | 1–2 weeks |
| Warranty: | 1 year |
As of January 2018, Crasno is an Authorized Roland Service Center, performing both warranty and non-warranty repairs on Roland and Boss equipment.
Other policies:
The warranty begins at the date of completion, and ends 365 days later. I only warrant the work I perform — problems unrelated to the ones I've fixed are not covered by warranty, nor are problems resulting from misuse or abuse.
If a repair requires parts that are expensive (>$60.00) or with anticipated slow shipping (>1 month), I will contact you before proceeding.
If a repair is expected to require substantial labor (>4 hours), I will contact you before proceeding.
Payment is required before I will release your item.
I accept cash, Interac E-transfer, and PayPal (with 5% added to compensate for fees). Cheques accepted only from businesses / institutions.
Repaired items not paid for and picked up within 60 days after completion will be sold or kept for my own use.
As well, though I prefer face-to-face exchange of items and payment, I can also repair things shipped to me, as long as you pay for all shipping costs, and contact me prior to shipment. I always take good care when packing for return shipment, but nonetheless, I am not responsible for loss or damage in transit to or from me.
What sorts of things do I repair?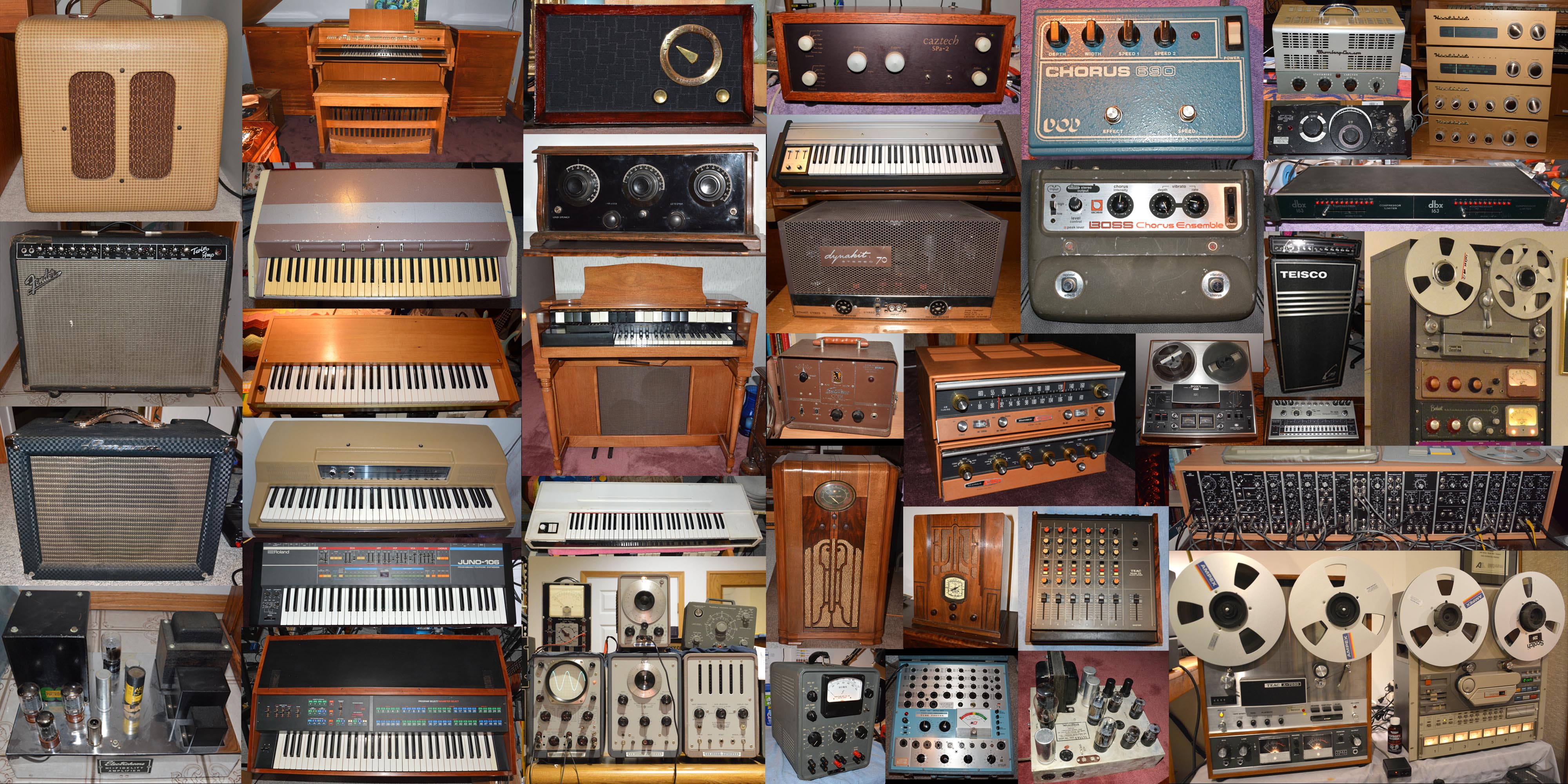 All of the above, and more! Yes, these are all actual devices that I've repaired and photographed. To write it out, here are some typical sorts:
Keyboard Instruments / Synthesizers
Amplifiers (solid-state or vacuum tube, hi-fi and instrument)
PA Equipment (amps, mixers, microphones, etc.)
Effects (pedals, rack mounts, etc.)
Radios (solid-state or vacuum tube)
Test Equipment (power supplies, signal generators, counters, oscilloscopes, etc.)
Audio Tape Recorders (reel-to-reel, cassette, 8-track, etc.)
Film projectors (8mm and 16mm)
Turntables
Speakers
I mostly repair 20th century electronics, but I have had high success with present-day devices as well, including many modern amps, keyboards, pedals, microphones, and test devices. I can also repair appliances, such as toasters and microwaves, as long as they can be brought to me. Basically, if you are willing to pay, I can attempt to repair any electronic device, using my experience, intuition, and all available information. However, I do not generally work on modern computers or phones—these almost always require expensive parts that I do not have, and there are plenty of other shops that work on such things. If they turn you away though (saying your computer is "too vintage", for example), I may be able to help.
For detailed examples of things that I've repaired, see the Articles page.
Other Services
For info and pricing on the services below, contact me!
Audio Tape Digitization

1/4" reel-to-reel, 2- or 4-track
1/2" reel-to-reel, 8-track
Cassette
Minicassette
Microcassette

Video Tape Digitization

VHS
8mm and Hi-8, mono or stereo
MiniDV (technically it's already digital, but...)

Piano & harpsichord repair and tuning
Sale of refurbished equipment
Purchase of 20th century electronics